Ultraman Story: Ferg Hawke
Ferg Hawke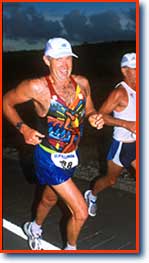 1999 Ultraman World Championships – Kona, Hawaii
It's the day before the Ultraman World Championships in Kona, Hawaii, and all day my support crew, consisting of Gerry, David, my brother Bill and Ryan, have been acting a "little strange". Positioning themselves in front of newspaper stands. No radio on in the van, as though they were trying to hind something from me. It wasn't until I was paying the bill at a restaurant that night that I realize what they were trying to do. The headline on the newspaper behind the counter jumped out at me "SHARK ATTACK OFF KONA COAST!" That news, combined with the fact that I am on antibiotics for a bad chest cold, my right knee had been sore for the last six weeks, limiting my running, my lack of swim training and ability, and only having competed in one triathlon since 1991 (Ironman Canada in August) over confidence was not a huge concern.
Ultraman is a 321 mile, 3 day triathlon circling the Big Island of Hawaii. Many, including myself, feel that day one, consisting of a 6.2 mile ocean swim starting in Kailua Bay, followed by a 90 mile bike ride with approximately 6000 feet total climbing and ending at Volcano National Park is the toughest day.
After a sleepless night and hectic morning organizing kayak, coolers, water bottles etc. we manage to be ready to start at 6:30 a.m. on a beautiful calm Kona morning.
Just before entering the water, I spot Jochen Dembeck, a German competitor who I had met a few days earlier. Jochen had lost his wetsuit three days before the race, so I lent him one. I knew my extra three wetsuits would come in handy! Besides, Jane Bockus the race director insisted I could wear one myself. I gave him a pat on the back and with a big smile said "Good luck, have a great race!" Jochen replies in his thick German accent (no smile), "Yaw, I see you in Volcano." As I walk away I realize that he had just given me a shot! But considering he clocked a 9:30 Ironman with a 54 minute swim split earlier in the year, he probably will be waiting for me in Volcano.
The Ultraman race has always focused on the Hawaiian values of aloha (love), ohana (family) and kokua (help). Since being termed a World Championship, things have gotten a lot more serious.
Gerry and David, both veteran seamen, did a great job of guiding me through the swim. After 3 hours of swimming it felt great to stand up and fall down several times on solid ground. It takes a while to regain your balance after swimming in the ocean for that long. The land crew, consisting of Bill and Ryan, had the makeshift transition set up perfectly. They had me showered and on the bike in under 5 minutes.
Early on the bike I'm informed that my good friend and fellow Canadian, Tracy Preston, has broken the women's swim course record and is having a great bike ride. This news really motivated me and I passed several competitors on the long 6 mile climb out of Keauhou Bay. With my support crew close by, we're making great time. What a crew they are! Between the four of them, they have completed a total of 4 Ultramans and 30 Ironmans! One minor problem – Gerry and David have been stuck on a kayak for the past 3 hours and haven't had their fix of Kona coffee yet.
No problem – one quick stop for coffee "Ferg won't even know". However, the combination of a rather laid back Hawaiian barrista, and me cresting the hill and now moving downhill at 35 to 40 mph leads to a "considerable" gap. Fifteen minutes goes by – no big deal, I've got half a bottle of water, and "they're probably right behind me". Half an hour goes by and I'm starting to panic "did the van break down? did they crash?". I'm getting dry. Forty-five minutes has passed and they finally catch me. I was so relieved so see them that I only yelled at them once! They had hidden all the coffee cups and told they got stuck in traffic – but I knew exactly where they had stopped as I had crewed for Gerry the previous year, and had stopped there myself.
In Ultraman there are no aid stations. Everything you need is in the support vehicle. To keep the bike as light as possible, I decided to carry no spares, no tools, and only two bottles. Keeping the van close at had was critical.
With maybe 20 miles to go, I start to close the gap on a competitor who is struggling into the brutal headwind. As I pass him, I realize it's my German friend, Jochen Dembeck. Jochen looks beat but recognizes me. "Aw" he says "yea Ferg, good ride." I smile at him and say "yea, I see you in Volcano." What the heck, I owed him one!
The last 20 miles is a grim 4000 foot climb into strong head winds, and FINISH banner is a welcome sight. NO MORE SWIMMING! Brother Bill has pulled the "special cooler" from the van and offered me a beer. I declined, thinking it best to wait until after the run portion. "Oh, what the hell, a couple of beers can't hurt."
At the end of day one, John Nickles had a huge 58 minute lead over second place Harry Kuehnelt from Germany. I had finished 12th out of the water and had the 7th fastest bike split, placing me 9th overall.
In the women's race, Linda Bialla had a 2 minute lead over defending champion, Tracy Preston.
Day two seemed fairly simple. Start riding at 6:30 a.m., ride 171.4 miles to the finish line, get off bike, throw bike in dumpster. No swim, no transition, no run, no problem. Well, it wasn't quite that simple……the first 20 miles are all downhill and unfortunately a large pack formed which eventually resulted in 12 drafting violations and 1 disqualification. In my opinion, race official, Don Ryder, did a brilliant job determining those violations. He had been more than fair in warning everyone before being forced to act.
I settled in a little behind the pack and waited until we reached flat ground before slowly working my way up, eventually finishing second place, behind race leader, John Nickles. Mother Nature also had her part in the race. Huge crosswinds in the Kohala Mountains made things difficult for everyone. Athletes finishing later in the day also had to contend with a severe rain and wind storm that threatened the safety of anyone left on the course; blowing one rider off his bike. I hung onto second place. John Nickles and I were the only racers to finish the bike in under 8 hours, myself by 3 minutes, John by 21 minutes, giving him a huge 1:32 minute lead over second place, Harry Kuehnelt. My second place bike finish moved me up to 5th place overall.
Once the crew had removed the bike from me and strapped it to the top of the van (there were no dumpsters handy) out came the "special cooler" and Bill once again offered me a beer. Well, second place in Stage II far exceeded my expectations. Not being one to mess with what seemed to be working, I accepted.
Most people who know me would agree that I don't fit the mold of the average triathlete. I'm fairly large at 185 lbs., I'm quite hairy (I don't shave my legs and have an abundance of body hair). My unusual recovery drink, beer (not to mention the Mango Margarita I had with dinner) left some of the more "chiseled and shaven" European competitors scratching their heads.
We soon found out that this race is not all fun and games. We received a call from Tracy's crew advising us "she's not doing well and is thinking about withdrawing from the race". My crew and I decided to head back up the mountain to see if we could help. Tracy was about 12 miles from the finish with approximately 1 hour left before cutoff time. It's totally dar, pouring rain, and the wind is howling at 50 to 60 mph. Tracy is terrified, weak and very incoherent. She wants to quit. So what would any good friend do? We encourage her to continue! With her van leading the way and ours following closely behind, we all start down the mountain. Tracy is too tired and weak to fight the severe crosswinds and they're blowing her across both lanes onto the far shoulder of the road. Two of my crew members respond by jumping out of the van and running along each side of her to prevent her from riding into oncoming traffic. The next hour is one I will never forget. Tracy willed herself down that slippery, windy mountain to finish with 12 seconds to spare. She was later hospitalized and treated for exhaustion and hypo notrimia (low sodium levels). The doctor advised that Tracy was close to coma, and if her sodium level were much lower, she could have died. (What are friends for?). After witnessing the pure guts and determination of Tracy's ride, it is easy to see why she is a five time Ultraman Champion!
With Tracy's huge effort fresh on my mind, and running being my strongest discipline, I couldn't wait to start day three.
It was a short wait as the alarm was set for 4:30 a.m. for a 6:00 a.m. start. There was a slight downhill start and with a strong breeze at our backs, I decided to push fairly hard early and try to stay close to the front. This strategy had my crew a little concerned – not for me, but for themselves. On the run, each athlete is allowed to have a pacer, and I was lucky enough to have four very experienced veterans on my crew. One slight problem. It's late in the season now and none of the boys are in mid-season form. Ryan, the youngest member of my crew, decided to run the first half marathon to "get it over with". After approximately 30 minutes, he figured "a shorter, more frequent rotation may work better".
By the end of the first half marathon, it had become a two person race with Anatoly Levsha from Latvia leading at 1:32 and us about 1 minute back. The 20 mile mark brings us to the Queen Kaahumanu Highway with a lot less tail wind and a lot more heat. The gap between Anatoly and me had closed slightly and I decided to try and catch him. It took a big effort, and approximately two miles to catch him, at which point I settled in directly behind him. I sensed that he didn't like me running so close behind him and he slowed and waved me by. I lead through the first marathon with a 3:11; Anatoly was approximately 1 minute behind. At the 30 mile mark, he closed the gap and ran directly behind me, so I slowed and waved him by. He didn't go by, so I slowed some more and waved him by again. He didn't go by. Now I'm worried – if we slow any more it's going to take forever to reach the "special cooler" at the finish line! I had a plan. The old fake hamstring injury! I warned my crew not to worry, the I "yelled", grabbed the back of my leg and started limping. It worked to perfection! Anatoly shot by me thinking I was done, and then I pulled up right behind him. We exchanged the lead four or five more times before I started to slow, and he pulled away with 10 miles to go.
After being released from the hospital, Tracy and her crew arrived with about 7 miles to go. Seeing that Tracy was okay gave us all a huge boost. It didn't make me run any faster, but it gave me a boost anyway. The last 5 miles were tough, but my crew did a great job of pushing me on. We all ran through the finish shoot together with a time of 6:44. Good enough for second place in the run, which moved me to 3rd overall.
The race finish is on the beach in Kailua-Kona. We were welcomed by a live bank and a BBQ feast. I personally parked my butt under a palm tree with my "special cooler".
John Nickles finished first in the men's division and Linda Bialla was the first woman.
Mahalo.