Ultraman Story: Kevin Cutjar
Winner, 1995 Ultraman
Less than seven weeks after the 1995 Hawaii Ironman had been run and won, a much smaller group of international triathletes gathered at Kailua pier to begin an odyssey that totally encompasses the Big Island of Hawaii.
A three-day "stage" triathlon, the Hawaii Ultraman Endurance Challenge requires each participant to complete a 10km ocean swim, 421km of cycling, which includes over 10,000 vertical feet of climbing, to be followed on the final day by an 84.4km Ultra-marathon, run through the black lava fields "enjoyed" by Ironman competitors during their bike ride.
This year 27 competitors from the USA, Japan, Brazil, Poland, Austria and Canada were there. I was competing as the first ever Australian to enter the event.
Last years winner, Daniel Schallmo of Germany, was lining up again and chasing another win. Brazilian running machine and 1994 runner-up, Sergio Cordeiro was also back and planning to break the six hour barrier for the run.
Although the organizers of this event prefer not to use the word "race", it seemed clear this was not going to be a social outing!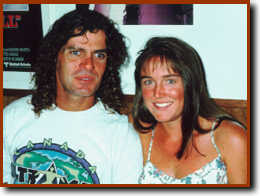 Kevin Cutjar – 1st Overall Male; and Tracy Preston – 1st Overall Female. 1995.
DAY ONE
On day one, all competitors and their compulsory support crews, who accompany them through every stage of the event, arrived at the Kailua Pier at 5.30am for their pre-swim briefing. Then, after a group photo, as the first rays of sunlight crept over the horizon, the start gun went off and we dived into the easiest of the three days- a 10km(6 mile) swim followed by a 143km(90mile) cycle stage.
First-time Ultraman, John Nickels(31) of the USA, who has a 9,10 Hawaii Ironman PR, was in a class of his own during the swim, which heads along the Kona coast to Keauhou Bay. He set a new course record- an outstanding 2,33:02. I was in second position, but a whopping 42 minutes behind the leader, in a time of 3,15:36. I was closely followed by Franz Fiby of Austria and Victor Pereira of Brazil.
The youngest competitor – and the only woman in the event – was Canadian Tracy Preston, 25, who was 12th onto the bike after her 3,50 swim. Three months earlier Preston had become the first woman ever to complete the grueling Ultraman Canada event and was here to make it a double in 95.
I found this part of the race relatively easy. Even with sea lice, currents, ocean swell and rough water to deal with, my focus was on just getting section out of the way. I just went through the motions, following my water crew, who were paddling a sea kayak, navigating and stopping me every thirty minutes to drink.
After a quick transition we took to the road, which begins with a 1500ft climb in the first 10km. No mercy! It's amazing how soon you can forget about a 10km swim!
My road crew, Adam Bogdanovs of Australia and Curt Oishi of Hilo, Hawaii, were busy for the first couple of hours as I called for various food and drinks, until we settled in and got a system going.
The terrain during these early stages varied from winding hills through coffee and macadamia nut farms, into dry, barren stretches where the roads were straight and the head winds were relentless. Then followed lush green rolling hills, near the islands' southeast coast, where the wind has trees permanently bent over. The first days' bike stage finished with a 4000ft climb to the finish line atop a volcano.
I was gradually making time on the leader and riding away from the chasers, which meant that we didn't see another competitor or crew all day. With a 5,07 bike split, I had closed the gap to John Nickels to 30 minutes and was 20 minutes ahead of danger man Daniel Schallmo, who had swum a 3,37 and biked 5,05. The two Brazilians Victor and Sergio were in 3rd and 4th respectively. Tracy Preston ended the day 17th position , with a 6,45 bike ride in brutal conditions.
In the spirit of the "around-the-island adventure" most competitors and their crews, camped at the old military barracks in Volcanoes National Park. This feature of the weekend supports the Hawaiian traditions of Aloha and Ohana (Love and Family). As support crews, participants and organizers shared meals and accommodations, this event was bringing us together.
Kevin Cutjar. 1995.
DAY TWO
Most crews were up by 5:00am for breakfast, before heading out on stage two, a 278km bike ride. As we gathered for the day's briefing, competitors and crews were busily preparing bikes and cars for a long day on the road. Race organizer, Don Ryder warned us of the traffic dangers and wished us a safe journey. It was raining!
At 6:30am we started down the volcano. I was feeling great and rode up front with Schallmo, Cordeiro, Nickels and Pereira. Drafting is not allowed anywhere in the event, so we had to work alone. In an effort to push the pace and psyche each other out by flexing our cycling muscles, the five of us broke away over the first 40km of the fast down hill and flat section.
After 70km, Nickels and I had broken away. The 80km mark was the start of the toughest road I had ever ridden on. The infamous Red Road was 15km of narrow, bumpy, wet pot-holed "goat-track" through a southern coastal rain forest, that had some competitors' wheels falling apart. Nickels and I hammered through this section together, still getting away. At about 100km, I heard John calling to his crew for coke and soon after he began to drop back. At this point, I was hoping for another lonely day.
During the early kilometers, my crew had been held up by the police and I hadn't seen them for the first 90 minutes of the ride. John and his crew, as well as Sergio's crew, kept me going with water and Gatorade until my crew had caught up.
The rain fell for five hours as we headed north along the Hamakua Coast. I stayed out in front and felt stronger as the day went on. Occasionally Schallmo's crew would pass me, jump out of their van and start their stop watches as I went past. This told me he was after splits, so I made it my mission to ride away from him.
With 6,30:00 on the clock, I had only one mountain pass to climb and a down hill run to the finish, 32km away. I knew the course record of 8,00:56 was breakable from here. My longest ride ever in training had been 200km and to be feeling this good after 240km, I knew I was running on pure adrenaline!
As my crew lead me into the finish area, we looked around for the banner and clock, but as organizers had not expected anyone to arrive in 7,29:20, it had not been assembled yet. I was stoked!
Schallmo finished in 7,50 and Nickels in 7,53. The three of us had broken the course record.
Over the next five hours, as competitors crossed the line, stories of difficulty and courage were told. When Jerzy Gorski of Poland crossed the line, he picked up his back wheel and spun it. It rotated half a turn before the biggest buckle locked up on the brakes. It had started to fall apart 200km earlier on Red Road. With no spare wheels but a lot of guts and determination he rode on, to finish in 11,26. A life threatening bike accident which had previously left him in a coma for 4 days, had kept him out of the 94 event. A bent wheel was not going to prevent this guy from puting on a 95 finisher's shirt.
Preston, who was held up with front derailier problems, rode over 200km in the small chain ring to finish in 11,16.
The field included one of endurance sport's greatest characters, Hawaiian, Cowman Ah-Moo-Ha, who has competed in 17 Hawaii Ironman and all 11 Ultraman events. He had gone over the day 1 cutoff time by 2 hours, but just scraped in on day 2 (by the skin of his horns) in 11,59:51.
This event is tough mentally and having 3 days to complete it doesn't make it easier. I found the nights were the hardest to deal with. After two big days of racing, including one awesome bike ride, I was still in second place and feeling confident. ButÖ "had I gone too hard today?" I still had to run a double marathon tomorrow, in extreme conditions. I'd never run further than a marathon before. I should eat-but I'm not hungry. I'm still covered in sea lice bites and I won't sleep well. Having time to think about all this is a factor to be considered in stage racing. I could bet my orthotics that Daniel Schallmo and Sergio Cordiero were well prepared to battle it out in the lava fields tomorrow.
DAY THREE
So there we were, in the dark, at a point exactly 84.4km from Kona. Just a few minutes before the start of the final stage all competitors were asked to form a circle and hold hands, surrounded by a bigger circle made up of our support crews. Don Ryder and race director, Jane Bockus said a short prayer to wish us well, as we were about to share an incredible experience of athleticism that is more than just a long run. On finishing, a loud cheer of "Bonzai!" from the Japanese signed the move to the start line.
The gun fired! Daniel, Sergio and myself broke away immediately. We ran shoulder to shoulder as we past through the 7km(4 mile) mark in under 28 minutes. This was 3 hour marathon pace-definitely too fast for me! I lead Sergio by 2 hours, coming into day 3, so I decided to let him go for it. Daniel had to make up 42 minutes on me, to win this "event", but I wanted to, at least, keep him in sight. We ran together for 10km, when I thought it best to let him go too and just run my own race. From that point on, I wouldn't run with another competitor all day.
Sergio went through the first marathon in 3,12, Daniel, in 3,14 and myself in 3,20. Pre-run leader, John Nickels, was not in sight at this point.
During the next 30km, my body gradually deteriorated and I stopped more often. I was joined by another crew member, my pace runner, Dave Cobb, of Honolulu, that kept me going through the long hills. Looking out through a hazy blur, as the heat rose out of the of lava fields, was a nightmare. I had to concentrate on mile markers to block out my surroundings. We were running into a solid-head wind that ensured no-one was going to run sub 6 hours today. Sergio, to everyone's bewilderment, ran the last 20km of the lava fields BAREFOOT, and took line honor's in 6,34:18. Daniel had given it his best shot and finished in 7,11:13.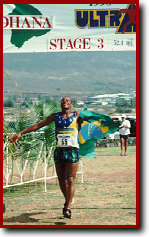 Sergio Cordeiro of Brazil – first on run. 1995.
During the last 20km, my crew became my motivators, my medical staff, my aid stations and my mile markers. They let me know that Daniel, who was my only threat to take the fastest overall time (providing I kept running!) had started to slow down too, in the closing miles. I could see the concern on the faces of my crew-members. Adam and Curt wanted this now, as much as I did. "You've got to want it Kev!" "Go get it, Man! It's yours!"
At times my motivation shifted to these guys as well as Dave Cobb, who was putting himself though hell, just so I could become an Ultraman. I didn't want to let them down.
At the 82km mark, Dave patted me on the back and peeled off to let me run it home. I can't adequately describe just how it felt to run the last 2km to the finish line. My run time was 7,26:59. My total time was 23,19:39, from Daniel Schallmo in 23,45:24 and Sergio Cordeiro in 24,22:46. John Nickels was 4th in 24,33:27.
Tracy Preston ran steadily to finish with an overall time of 32,25:37, placing 22nd and earning the respect of everyone involved. The 6'2″ Cowman, wearing his trademark cowhorns, cruised a 9,34 run.
Ultraman Hawaii, the original Ultra-distance triathlon, is much more than a long distance race or event. It's a journey! I feel honored to have been amongst the few who have experienced what has been called one of the most demanding physical challenges ever devised by man. I haven't mentioned by name, so many of the (Ultra) characters who helped make this journey such a unique experience for me, but I won't forget them.
I think the spirit of this event is wrapped up fittingly in the words on Cowman's business card:
We meet as strangers.
We compete as friends.
We part as brothers and sisters. Kevin F Cutjar
Email address: epix@img.net
Phone/Fax:(250) 492-3066
Mail: 33/310 Yorkton Ave. Penticton, BC V2A 6Z8. CANADA.