Ultraman Story: Rick Kent
From the eyes of competitor Rick Kent from Austin, Texas
Photos Courtesy Daphne Hougard
Stage One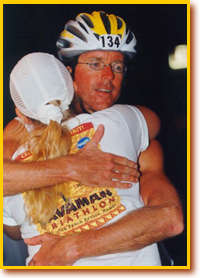 Rick Kent with crewmember Cheryl Livingston
6.2 mile swim (Kailua Bay to Keauhou Bay) followed by a 90-mile bike (up to Hawaii Volcano's National Park, 6,000 ft climbing).

Swim start was at 6:30am with each of the 35 invited competitors required to have a kayak or outrigger canoe escort. The start was pretty uneventful as the 32 men and 3 women took off on their personal Ultraman oddessy. Personally, I was hoping to decrease my 10k swim PR from 4:33 (from IronAlpes-France in July) to 3:45. This is still quite slow by most standards by would put me in decent position coming out of the water for the 90-mile bike. Due to water currents each swimmer took a little bit different line. Just follow the escort and hope for the best was my theory. Race director Jane Bockus put me with a State champion outrigger canoer named Marsha. Marsha and I had a pre-arranged plan to take the "middle" line. Some went wayyyy out and around what they felt to be "head currents" while some swam directly on a straight line to the finish risking a slower swim due to unfavorable current. It turned out the longer route was best and I had a terrible swim by taking the inside/middle line. Wet suits were allowed and all the top guys wore QR long john wetsuits just like I was using. The wet suit combined with the buoyant salt water should have had me flying to a new PR. Not to be today! My 4:25 swim time was very disappointing (third to last!). I learned a big lesson for next year's race!
The bike started with a 4-mile climb of 1,000 feet. I passed 3 guys in the first 4 miles so my legs were ready to ride hard. After the climb it was big rollers to the beginning of the 25-mile climb up to the most active volcano in Hawaii. In route to the climb we encountered some of the most brutal side wind riding I had ever experienced. One had to be very careful as you could easily get blown off your bike going down some of the faster descents on the edge of the coastline. Oh, and did I mention that I was having some of the most beautiful visuals in my 15 years of triathlon. This was Hawaii after all, and the impact it has on you can't be ignored. It was just sooooo cool to be riding hard and thinking of the events in my life that brought me to this place in time. Pretty intense stuff for me.
OK, we started the 25-mile climb up to the volcano but not before the big headwinds of the day. It got pretty darn bad for the 20 miles before the climbing. Those nasty headwinds played havoc on my MPH average! Other riders seemed to be getting battered worse than I was so that was encouraging. My crewmembers John Santana and Cheryl Livingston were apparently having a good time seeing me fly through the field gaining a better position as time wore on. A good crew always inspires me and they were no exception. I was having fantasies of getting 10-12th by the finish.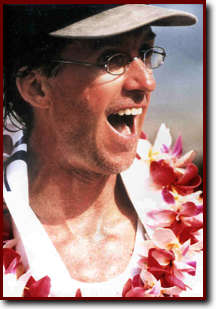 The climb to the finish was long and gradual. No big deal, just hammer as hard as possible and you get there when you get there. When I finally did get there in 15th place I learned a little bit about how to handle my nutritional needs. I went through a dark, slow period. When my arms went numb I slowed down to a crawl. I wasn't taking in enough Cytomax (made triple strength) so my glycogen was down too much. My crew snapped to this (way to go Cheryl!) and I got back on pace again with a few bottles of Cyto. The stage finish was pretty cold and it was misting in what seemed like a rain forest. My first day of the Ultraman was over and by this time I came to the realization That I was taking part in a very special race. Why in the heck did I wait so long to come over here?! By day one I had already made some friendships that I knew would endure for years to come. Ultra races like this one bring out the very best in people. We would be sleeping in an Army barracks up on the volcano along with everyone else. It was very communal and very fun to "bunk out" with all the other crews and competitors.
Stage Two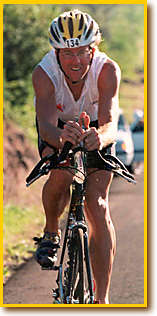 With the wind in your face…
171 mile bike with 4,000 feet of climbing Hawaii Volcanoes National Park to Hawi
The ride started at 6:30am with cold rains as is customary for this time of the morning on the volcano. I was very prepared with all sorts of rain gear and if it got really cold I had thermal gloves. I was warned it could dip into the 40's with the blowing wind. Well, I think you get it. We would be descending for around 20 miles in pouring rain. Surprisingly it wasn't that bad with the temp in the 50's.
It wasn't uncomfortably cold but vision was a problem. After the previous day's bike we knew sort of who was who so five or six of us were gunning for the stage win, or to gain as much time on the overall classification as possible. Overall leader Holger Speigel took off halfway down the descent but I knew he wouldn't get to far with the conditions. Towards the bottom I took off after him. The task to catch Holger wouldn't be as simple as I thought! Behind me Canadian Eric Seedhouse and Brazil's Sergio Cordeiro were in hot pursuit of "Holgie" and me as well. Behind Seedhouse and Cordeiro was a very patient Cliff Rigsbee who would factor into this "dogfight" in the making.
In a nutshell, I chased Holgie for 20 miles or so while Seedhouse and Cordeiro caught up to me. I took a breather and removed all my rain/cold weather gear. The three of us traded positions often trying to make a break up to Holger. It wasn't easy staying out of the no-drafting zone while we kept attacking each other so often. Now I understand the complications that can arise from this type of scenario. When someone attacks you have to pause a little to go after them or you'll be on their wheel (which is just where you would "like" to be!) but since you can't enter the drafting zone you have to wait a bit. With three of us being pretty equal and all feeling good it made for even more aggressive riding.
I finally got away and caught up to Holger and I lead off and on for 3 or 4 miles. I decided to peel off my leg warmers (while riding) so easing off the pedals a bit allowed the German to get an easy gap which quickly became two minutes. Two became eight, eight became twenty. Bye, bye Holgie! Within the next three hours it became a race for second. Still about a hundred miles to go and the worst climbs were ahead and close to the finish. I rode by myself for what seemed like forever. The weather cleared somewhat and rain became less of a bother. Towards the halfway point it started to heat up.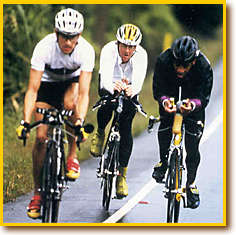 The "dogfight" with Sergio & Seedhouse
It was somewhere around 70 to go that Cliff Rigsbee caught up to me. His support vehicle had been looming around for a long time so I knew someone was gaining on me. When he finally caught and passed me on one of the climbs I was pleased to see it was Rigsbee as we had met at one of the local bike shops while getting our bikes inspected. He was a cool guy and I was alert and feeling good enough to know he wouldn't drop me. We had a good time putting in these little attacks on each other. He'd test me a little and I'd test him a little. We kept each other on our toes, which made for a faster pace. This benefited both of us since the race was in stages and our finish time for the day would be somewhat faster due to this little battle. It was something like thirty miles before I could see that one of us was going to crack. My problem was that I had to pee real badly and to slow down, hang it out, and lose momentum could spell doom for me.
If I were he I would attack right then. Well I don't know if he ever knew I slowed down to pee but he attacked right after I gave him that little gap. Goodbye Cliff! I recovered quickly but he was way up the road and climbing well. There was still a lot of road ahead and I had my overall placing to worry about too. I couldn't go to hard at this point because I could blow and lose time on the day. I needed to gain as much as possible going into the double marathon run the next day. I tried hard not to think about that too much!
With about 25 miles to go Seedhouse came flying by me. There was no way I could go with his pace….no way. Crewmember Cheryl Livingston reminded me to take in more "Gu" so I did. Soon I picked it up again. It's amazing what a good Dose of triple strength Cytomax and a mouth full of Gu will do for you. We still had a monster 5-mile climb before descending for 13 miles to the finish line. The climb was brutal. I was tired from the day and I was already told that it was raining in buckets on the descent. Plus the sidewinds are legendary through this section. It is said that the sheep have longer legs on one side to counter the wind to keep balance. With that kind of wind and rain it was hairy as hell coming down. I'm normally pretty fearless in these situations but sanity ruled out. I actually used my brakes a couple times coming down. The rain and wind along with the severe drop in temperature made it hard to even ride. I was shaking really badly. All I had on was a sleeveless jersey and shorts. With about 3 miles to go I swept out of a curve and found myself going 40 mph and I couldn't even change my hand position to brake. I think I might have said a quick prayer because the side wind, the cold, the rain were all at there strongest at that moment….and I was hauling ass! In a blink of and eye I got through it but for about 30 seconds I wasn't sure what was going to happen. At the bottom it stopped raining briefly enough for me to cross the line and get some good. I was trashed! The day would bring me up to 8th on the overall classification. This was huge because I could still drop a couple places and, with a lot of luck get into the top ten after the run.
Stage Three
Double Marathon Run, 52.4 miles Hawi to Kailua-Kona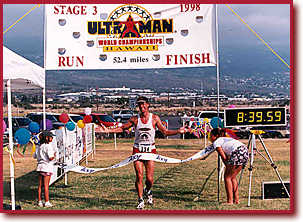 The finish
The run start is significant in that the Ironman bike turn-around is in Hawi. We do the same course except on foot.
This was the day I was waiting for. I had never successfully completed this long of a run, much less done it with so much on the line. At best I was going for ten hours. My last attempt at this distance was in another race in France this summer and it was ugly. At Ultraman I had much more going for me. This course had smooth asphalt while the French course was over rocky jeep trails. In France I was injured from a bike crash the previous day. I was uninjured here and feeling good at the start of the run. Let me re-phrase that. I was feeling good for having done what I had done the previous two days. My legs were tired but feeling up to the task. We were also informed that we could count on some decent tailwinds for the middle third of the course. I was encouraged.
We formed an energy circle in the middle of the highway and said a Big Island prayer of some sort. It was Perfect. We all held hands with the crews all behind us. It was surreal. We turned to face the course and the gun went off. BANG! This was going to be interesting as I was charting some new territory athletically.
Could I hold down a 10-11 pace for a double marathon? If I could I would easily come in at less than 10 hours. That pace would leave a lot of room to slow down at the end too. Almost everyone took off at an 8 1/2 minute pace or better. I knew better. I would surely see most of those guys again. I did my 10-minute miles for a long time. Cheryl feed me, watered me, made sure I kept up my schedule of Cytomax which was crucial for the run. Electrolytes have to be watched like a hawk in this situation or you could turn into a mindless zombie out there not knowing who you were, much less trying to run in a straight direction. She was great! I didn't stop for anything, never broke a stride for her support or had to really ask for anything since she always had what I needed.
16 miles went by quick and I started to pick it up. At 20 miles or so we took a right. This is where it got good with the tailwinds they mentioned before the race start. By the halfway 26.2-mile point I was down to around 9 minute pace which feels pretty darn fast in this long of a race. The split was 4 hours 15 minutes! I was so stoked. We had a lot of downhill coming up and the pace was getting faster and faster and easier and easier. By 35 miles I had passed something like 12 people and they were all fading. I was down to 8 1/2 pace and not slowing down. I was fantasizing of sub 8 hours now. If I didn't slow down I would do it.
There were long stretches of road in front of you. You just had to focus on the section right in front of you or it got to be a bit overwhelming. It would be great when I could see someone ahead to catch. Towards the later stages there were becoming fewer and fewer. I was in 12th place. I passed one more guy and his escort runner. Most everyone had an escort except for me as escorts just distract me.
Now eleventh and closing in on tenth. He was just ahead a couple hundred meters but the distance wasn't getting smaller. It wasn't too long until I was starting to slip a little and I had about five miles left. OK forget the guy ahead I just have to hold it together now. For you previous Ironman finishers I was a couple miles past the airport and starting to smell the finish but as you know it's still a ways off. I asked Cheryl how far it was to go and she said 4.3 miles. Within 1/2 mile a began what was to be total melt down. I hadn't done anything all day except kick ass and now I was faced with the prospect of slowing to a crawl or walk. Forget the eight-hour finish now…..just get there!
Cheryl gave me water to pour over my head, arms, Back, face, etc. It took a while but I started to run but sloooowww. Maybe 11 minute miles but I was making it happen. By two miles to go I got passed by that last runner and with 1.3 miles to go I got passed by another guy from 10 miles back. I was almost there. I sped up to the blistering pace of 10 minutes a mile. I could see the finish line way off ahead of me. I could hear them saying my name and bio. I could see the people. I could see the finish tape. I could see the people's faces. I was fixing to be an ULTRAMAN!
I went through the finish tape and race director Jane Bockus was there. My lone crewmember Cheryl was there, so was my buddy Eric Seedhouse (he got 3rd in the run-second overall!). For that matter I knew everyone at the finish due to the events over the past 3 days. I was so bloody glad to have it be over and my success in the run was overwhelming. I did eight hours thirty nine minutes! I totally underestimated myself for the 3rd day's run.
Aftermath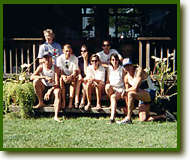 Jane's Breakfast Crew
The awards ceremony took place the following night at the Royal Kona Resort. By this time all the crew, competitors and officials have bonded. We all came together as strangers, competed as friends, and were now brothers and sisters. It was so cool and the whole place had that feel. The 35 of us had shared so much. Only 4 didn't finish officially.
The only competitor to do all 12 Ultraman's was the world famous "Cowman". He was there in all his cowheaded glory. Cowman is a pioneer of Ultra running in the US and is one of the first to successfully complete in the Western States 100 back when it was a "ride and tie" event with horses. He is the nicest guy and a true legend. I wore his cowhead for a while at the afterparty at Lou Lou's bar. Actually we all did. First place overall Holger Speigel (and new Ultraman record holder!) wore it for most of the night. Ask me about pictures when you see me.
On Thursday race director Jane Bockus invited the remaining athletes and friends to come out and do some Outrigger canoeing. I tried it and it was not as easy as it looks but plenty of fun. The canoe was a six person version like you see on the intro to Hawaii Five-O. Afterward we went to Jane's house for coffee and fresh pineapple. What a great time. I can't wait to do this race again. There is to be a Canadian version the last week of July and I'll be there too.
Thanks go to all those cool race organizers Jane, Don, my crew Cheryl and John, and all my new Ultraman Friends. You are way cool and I can't wait to see you all again.
Aloha,
Rick
Rick Kent
905-B Post Oak St.
Austin, Tx 78704
voice/fax 512-707-7657
cell 512-751-8113
rkent@eden.com
http://www.eden.com/~rkent/AT/