Ultraman Story: Vito Bialla


2000
The "Double"
From an interview by Zoot Sports writer Scott Schumaker:
For the last couple weeks, you've read about Zoot's Vito Bialla and his inspiring, crazy, impressive, unbelievable, not-bad-for-a-middle-aged-guy attempt to race back-to-back Ultramans. Well, it's been a week since he successfully pulled off the feat, and we thought that was more than enough time for him to put it all in perspective. So, we started pestering him about how the races unfolded. Here, in the ultra-master's own words, is how it went down.
"You are going into unknown territory," my coaching mentor told me. "Nobody has ever raced in those conditions for six days and I'm not sure I know what advice to give you." That's encouraging I thought. Screw it, we are doing it!
Day One: Kailua Kona, 6:30 am start.
There were four participants who signed up to attempt the first ever, double Ultraman, but only two showed up at the starting line. Cory Foulk from Kona and I took off heading south on the 6.2-mile swim with our kayakers pacing us. I got out of the water in 3:30 and took off to complete the 90-mile bike ride. Cory was an hour behind. It was like a typical training day, but that would change starting the next morning.
Day Two: 6:30 am start.
We headed out on the proposed new course for 2001. Many skeptics had said the 171.4-mile bike was too hilly, too windy, and too tough. We had an hour warm up in the early heat and then we turned up a 12-mile, 3500-foot climb with 20 to 30 knots blowing in our faces. The grind had begun. After the climb we dropped down to almost sea level and then headed back up. This time it's a 2400-foot climb with more wind and more heat. After racing nine hours we still had 80 miles to go with a 12-hour cut off looming. Yikes.
I hammered up an 800-foot climb, raced down the following 15-mile stretch and headed towards Kailua. Thankfully, a massive tail wind hit me and carried me down the Queen K highway averaging 35 miles an hour plus. It started to get dark as I raced through town, flew past cars, and screamed into the hotel lobby. I caught the race director with a minute and a half to spare before the cut off. My time was 11:58:24 for the day, too close for comfort. After getting pried off the bike I shook like a show dog on the podium.
Day Three: 6:00 am.
It was time for a nice leisurely run from Kailua to the Waikiloa Hilton and back. It was hot, it was hot, and it was really hot. Blisters started visiting me as I ground towards a 10:33 finish. Athletes from around the world found us afterwards. After all, the Ultraman World Championships started in the morning.
Day Four: 6:30 am.
Thirty-five athletes, the press, and film crews all gathered for the start. My daughters and crew, Chelsea and Taryn, reminded me I had three hours in the water to heal my blisters. The horn sounded and we glided out to sea. I felt really good and very happy to be horizontal for a while. "Good news," Bucky my kayaker said. "We're at the halfway point in an hour thirteen." Then, suddenly, we went nowhere. The tide had turned and the scenery below me did not change for hours. Finally, I pulled from the pack, rounded the buoy, and head to shore. I was eighth out of the water in 4:28.
Over half the athletes were eliminated that day. Six even set new records with seven-hour swim times. The 90-day bike ride that followed to Volcano was new mental terrain for me. The horrendous headwinds on the last twenty-mile, 4000-foot climb had me riding at eight miles an hour and tested my patience. Again, faced with a do or die cutoff time, I started to hammer. During the last hour and a half I worked my self into frenzy. As the wind and altitude increased I was able to pick up the pace to 12 miles an hour and passed some of the strongest bikers on the course. I sounded like a walrus in mating season at the finish from breath so hard but I made it with twenty-four minutes to spare. Damn this race.
I fell asleep during dinner, nice company I must have been.
Day Five: 6:30 am.
For the last historic time, we rode the old 171-mile, round the backside of the big island, scenic route. Rain, heat, hills, wind, mountains, more heat, swollen feet, more heat, more wind, more heat. But, I posted a 10:13 finish. I ate two dinners that night.
Day Six: 4:00 am.
My feet were swollen and three toes were a wreck. What to do now?
With a knife I cut out the side of my new Sauconys and turn them into sandals. My toes hung out but they had room. With loose bands of duct tape and Vaseline soaked socks, the other competitors and I marched to the starting line. There were stars in the sky. The morning was cool. All was quiet on the front. This could be our day. We started the run in the dark. Kailua is 52.4 miles away. Here we go again.
Suddenly, I felt great. So, I backed off. Then, I felt even better. So, I back off more. I wasn't supposed to feel this good. I posted a four-and-a-half hour, nice easy marathon. Hah! Screw the aging process. But, don't get cocky I reminded myself. The lava fields can send athletes to the hospital; they certainly send egos to the morgue. Approaching noon my feet were on fire, my saddle sores hurt and I started to get a little testy. You don't conquer this part you outlast it. Hours passed and the sun slowly retreated. A cooler breeze started to stir. The pain was steady but stubbornness was my friend. Suddenly, Joe Amato, my six-day crew chief-or bartender as he called himself-served me my last Coke. He grinned while my wife Linda giggled and said, "My God, one mile to go." We got to the tape and the crowd was huge. Cameras were in my face. I broke down and desperately tried to hide. I sat down and broke down some more. Somewhere between wiping snot, tears and cold beer off my face I regained composure.
I'd raced long and short always following a course established by others. To be a pioneer and go into the unknown terrain was to me very, very special.
Whoa there, we weren't done with Vito yet. We still had some follow up questions.
Zoot: Which Ultraman was harder?
Vito: Honestly, the second one but not by much.
Zoot: How did you feel on the morning of the second swim knowing you had to do it all over again?
Vito: I felt energized and so happy to be off my feet and see all my fiends. I was cranking in the water and settling into the rhythm. I felt really great and loved it.
Zoot: What was the hardest part and how did you get through it mentally?
Vito: I had so much support and so many people cheering me on I couldn't believe it. Seeing the other athletes, the ultranuts, made me feel I was with my species. I learned how to kill negative thoughts the minute they popped up, kill them right then and think about something else. Negative thinking is like a disease. It starts with a wart and turns into a cancer so you have to kill it right at the onset…it works.
Zoot: Was finishing your first-ever Ultraman or doing the double Ultraman more satisfying?
Vito: Being a pioneer and doing what nobody had ever done is the greatest feeling. It is very different to do something no one has done before versus following the same route thousands do each month trying to shave a minute or two off. It's weird because there is nobody else around who has done it. Who do you talk to about it? Hopefully, it'll encourage others to push themselves beyond what they think is possible. The first Ironmen must have felt this way.
Zoot: How did that beer taste at the finish line?
Vito: Rick (Kent) served it on a tray at the awards ceremony and it tasted very good, but you get no buzz. It all evaporates really.
Zoot: Will you do a double (or farther) again?
Vito: I probably won't do a double again but tomorrow Linda (his wife) and I are watching a film about the Badwater 135 mile run across the desert. However, I promised Ben (his three-year-old son) some time first. He sacrificed two dozen fishing trips to have me do this so we will be going fishing. You can bank on that.
Zoot: What is your next adventure?
Vito: Trout or salmon fishing. I'm not sure yet. And, I told Linda if I get an envelope from the Western States lottery this week I don't want to see it for at least another week.
Double Ultraman finisher: Vito Bialla, age 52.
Crew chief: Joe Amato
Kayaker: Bucky Logan
Crew: Linda, Chelsea, Taryn and Ben Bialla.
Total Double Ultraman time: 63 hours 30 minutes 15 seconds.
Age group winner (50-55) and 16th out of 35 overall in the Ultraman World Championships.

---
1999
Vito Bialla repeated his Ultraman venture by completing the 1999 Ultraman in 28:51:51. He won his age group and his wife Linda won the women's overall championship setting new records along the way. Vito will attempt to do a double Ultraman back-to-back in the year 2000 along with Rick Kent. He is hoping to stay under 60 hours in the six day assault.
1998 Update:
Vito Bialla did his third Ultraman without mishap. He got 11th overall out of 35 participants and 2nd in his age group.
Here's what he had to say after the event. "The '98 Ultraman was the maybe the most rewarding so far. My family was out in full force with daughters Taryn, age 10, as crew captain, brother-in-law Bill my driver/bike whiz. My wife Linda with son Ben, age 10 months, were spotters and occassional cheerleaders and daughter Chelsea, age 12, crewing for prior winner Erik Seedhouse. What was different this time is that the event had more dimension and depth than I ever knew it could have. While in control of body, mind, and efforts at all times, it allowed me to observe and experience UMan at a different level. I didn't try to conquer it, I merely let it take control. I realized the event is not owned by anyone, shareholders or atheletes — it owns you. The greatest joy was seeing the success of others I had influenced like rookie Martin Brauns, Aids survivor Jim Howley, and training partner Rich Clark, age 60, who blew them away with an incredible performance."
1997 Update:
Vito completed the 1997 Ultraman with his daughter Chelsea, age 11, as support crew along with Martin & Margaret Brauns and Linda Bialla who was 7 months pregnant.
Vito was 5th out of the water in a great swim, and was in 8th place after day one. On day two, while in the top three on the bike, well into the race around mile thirty his handle bars snapped in half and he crashed off into the rocks and jungle doing about 15 miles an hour.
It took about an hour to switch equipment onto a borrowed ladie's bike from a fellow crew member, and proceed the next 80 miles on a bike too small but manageable. He finished the day well within the time limit. Vito completed the run on day three to move himself back into 10th overall and again become the oldest finisher for the race.
Martin & Margaret have entered a fifty mile run in Catalina, daughter Chelsea returns to homework and vows to do Ironman, wife Linda was accepted into the Western States along with Vito and plans on also attempting the Ultraman in 1998. 1996
The following is a personal story of a first time Ultraman who didn't know if he'd finish. He's currently planning on doing it again. Mick Jagger has that old familiar song, I can't get no satisfaction, but what the Ultraman experience did for this athlete was quite the opposite as well as unexpected. Being fairly new to the sport of triathlon my impressions were still a mixture of uncensored observations combined with the excitement of doing something completely new. At 48, I m considered a late entry but I quickly discovered that age has its benefits, at least in the longer races also known as Ultras.
I started triathlons two years ago after abandoning golf and sailing. Never getting a single-digit index became frustrating and after fifteen years with an impressive collection of trophies, sailing had lost some of its appeal.
I did my marathon duty by completing eight or so during the year to build a running base and also did a handful of triathlons, i.e., Alcatraz, Vineman, etc., culminating in 1995 with Ironman, also known as the windy one. Not bad for your first year, I thought, but now what? While in Kona I quietly heard about the Ultraman, a race understated which made it even more intriguing. I heard about personal challenges, comradery, a family atmosphere and something about the ultimate personal achievement.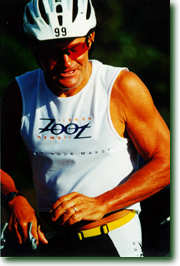 The 1996 season started with much the same for me but I was still looking for a bigger challenge emotionally, as well as something a little different. I had already entered the Ultraman earlier in the season. A month before I watched my wife, Linda, do the Ironman in Hawaii. That was an experience in itself. I found it harder to watch than do the event. Watching it was too taxing, no release for us poor spectators.
So the next month over Thanksgiving weekend was Ultraman, my turn to get some satisfaction. I just had to try.
What started off as a perfect day only got better. Standing there in the dark on race morning contemplating pacing myself for three days is unique for the day racer. It was pitch black in Kailua with lights flickering on the sidewalk when the athletes and crew form a circle. We hold hands for a moment of silence, thank heaven and earth for this moment, then embrace and say goodbye. The emotional buttons are starting to get braille tested by fingers of the heart. The fifteen athletes slide into the water at the same beach where Ironman starts and gracefully head for Keauhou Bay some 6.2 miles to the south. In three days you might be an Ultraman. The currents are favorable and the swim seems effortless. The escort slides along next to you as the rhythm of slow strokes and hip turns in the water becomes magical. I have just realized I've entered another zone. Whales must feel this way; total peace, tranquility, silence. An hour into the swim I can't stand it as the sun peaks out from the horizon, the rays glimmer through the water like lasers and daylight is inevitable. I just stop and loose it.
Bucky, this is fantastic, I holler. I just don't believe this. Pinch me, somebody, I must be dreaming. Bucky, my escort, grunts and nods. He's fifth-generation Hawaiian whose heritage is pirates and thieves as he told us. He just smiles and probably thinks, Greenhorn, why do you think I live here? Close to an hour and forty minutes later I get another quick sip of Cytomax and ask him if we're half way yet. He smiles and says, A mile and a half to go. I can t believe that we're flying through the water so I pick it up and head in with long smooth strokes not really wanting this to end. My swim turns out to be a 2:54 which, for a hack like me, is sensational. Tina Bishoff, the greatest female ultra swimmer of all time, still holds the women's course ecord at 2:53. Shows how ideal the currents were. New course records were broken that day with a 2:19 and 2:20.
The hop on the bike is quick and the small crowd seems so happy for everybody as we start the long climb uphill and head toward the volcano some ninety miles away.
My crew and I settle into a routine that quickly gels. Keep me light, record what I consume, give me lots of bottles on the downhills, keep it super light and empty on the uphills. We find that a small honk from the van as they leapfrog after each hand-off is really handy. It allows me to give them a simple signal using one, two, or three fingers indicating what I want at the next station. Just make sure you don't use the wrong finger, I thought. You're now under the complete care of your support crew.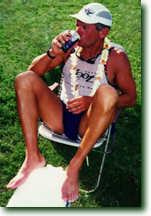 I can't stress the importance of selecting your crew. One needs not just competence but compatibility, genuine caring, and, of course, a sense of humor. It is also a race as much as there's talk of casualness. The athletes that compete here are by nature pushing themselves regardless of who s around. We survived the day. The last twenty miles were uphill. I didn't get blown off the bike and actually felt quite good. Later in bed, my heart was pounding really loud as I tried to get some sleep. Surely I'm keeping Linda awake, I thought as I finally zone off somewhere into space.
Day two starts in the dark in drizzling rain. A steady descent of fifteen or so miles takes you through the vicinity of Hilo down to the famous red road. If heaven meets earth it is here with huge waves crashing on your right as you go along what seems like your private road at a sunny early morning outing. This is Paradise and the memories are as vivid as reality to me each and every day as I recall them. The emotional buttons of joy multiply as it seems the heart is now laying out an entire keyboard. Back uphill, we wind our way through Hilo and are now close to half-way into the 171-mile day. I'm still going strong, still in my zone and slowly becoming intoxicated with joy. My body performs without complaints. Body and soul have developed a true friendship, mutual respect as well as admiration. I feel like I'm truly riding where bike and rider are one. As I wind my way uphill in the warm rain for what seems like an eternity, I go through Waimea and suddenly have my first view of The Kona Coast. So far away in the vog (volcano ash and mist) is Kailua, a reminder of what's ahead. Our German friend, Ulli, told us the night before in heavy accent, Zah beest is yed do cum.
Focus, man. You have a vertical climb ahead of you that will surely remind you of the name of this event. By the time I reach the top of this ridge, it's nothing. You've come, you've conquered, you have fifteen miles of downhill? Oh, yes. I have new appreciation and understanding of over the hump now. The crew is constantly cheering me on with enough enthusiasm to launch a rocket. Once again I feel a step closer to life, to living, to my crew, to reality. Can this get any better? Nah.
Day three is a 52.4-mile run from Hawaii to Kailua winding along the coast past golf courses, beaches, endless lava fields and more lava fields. Once again we hold hands in a circle of friendship and Ohana (family), thank our maker and ponder the day ahead in total darkness. The large lady is definitely humming; it sounds like Aretha warming up. It s starting to soak in, Zah beest is yed do cum.
I've never been a good runner so I let them all go and hope to pass a few along the way. This suits me better than being passed somehow. The first ten miles are like walking to the kitchen for a beer. Cowman A-Moo-Ha is chatting, the herd telling jokes, the standard warm-up run. Three or four competitors drop back slowly. The next ten miles I settle into my routine again. Once again my crew is my umbilical cord, my lifeline, my bond, my source of need in a state of total dependence. At mile twenty I put additional tape on my feet since it seems my feet are a bit swollen and bigger from two days of biking. At mile thirty I call for an additional handful of Aleve and for the thinnest pair of socks my crew can find. My shoes have definitely gotten smaller. How can that be? I trained in them every Sunday running thirty miles. At mile thirty-five I can t stand it. My feet are killing me. The blisters are intense and there's the familiar redish stuff coloring the sides of my shoes. Bleeding and oozing is not fun with 17 miles to go. My pace is the same, somewhere around nine-minute miles and the pain is becoming constant. By that I mean its not getting worse. It is now a matter of will, patience and plain stubbornness. My age is an asset right about now, I believe. It is probably here that I enter into a space I've never been. The measure of emotion and intensity I feel is a combination of allout war in Viet Nam and watching your kids being born all at the same time. I'm stripped of any feeling that s not absolutely genuine. I tell my wife, Linda, who patiently paced with me on and off all day, that I love her. I think about our two daughters, Chelsea and Taryn. I think about my crew and true friends, Martin and Margaret. I think about being and then I don't think at all. I feel life with the greatest intensity and clarity I've ever felt. Damn, this is good. That's about as much composure as I have. I am on autopilot and I want to stay here.
At mile 48, Louis is with me. Linda, Martin and Margaret all wind up running toward the finish for the last couple miles. We run side by side and my eyes start to well up and finally the flow starts. Thank God I have on dark glasses. Bawling is something I had no control over; it came just like a cloud in the sky out of nowhere but, damn, does it feel good. The purity of the moment. I felt stripped bare naked, experiencing the biggest high of my life. As we run toward the finish line my team slowly peels off to let me cross the finish line by myself. I cross the line with so much satisfaction that my spirit wants to keep going, but my body just went on strike. Wow!
Ultraman, Superman or Spiritualman, I feel like a better and a priviledged man. Better for having had the chance to feel life at this level where not everyone is able to go. Better because I have a true reference point of a quality experience such as this for the rest of my life. Better because of the people I was able to share this with: athletes, family, friends and spirits. Everyone of you is an Ultraman.
By: Vito Bialla
Email: vito@bialla.com